Aen
The Centre Pompidou: Museums as the New Cathedral of the 21st Century
Modern Art – Pluralism and its impact on Post Modern Architecture
Location: Centre National d'Art Moderne Georges Pompidou, Paris.
What Is A Cathedral?
Let's begin by asking, "What is a cathedral?" and explore it as it pertains to the topic of pluralism: A cathedral is a building, intended to be used as a place of worship and prayer, a community gathering place, a symbol of faith and religion, a gateway to spiritual transcendence, a "heaven on earth".
The overall nature and ambiance embodied by a cathedral is achieved by the enhanced embellishment of the interior and exterior, for example, think Saint Peter's Basilica in Rome, through paintings, sculpture, pastiche, moldings, the opulent and expensive use of materials, massive and highly decorated columns, large-scale monuments and the extensive architectural finesse of its time.
"The only way to understand painting is to go and look at it.
And if out of a million visitors there is even one to whom art means something, that is enough to justify museums."

– Pierre-Auguste renoir, french artist (1841-1919)
Patrons, such as Pope Julius II and the Medici's, commissioned these types of works of art to embellish their own cathedrals to display publicly and symbolically their wealth and religious devotion, and so these cathedrals also served to house the commissioned art works, just as a gallery and museum would today.
Thus, would it be fair to describe galleries and museums as modern or new "cathedrals"? On this basis, let's give it a try.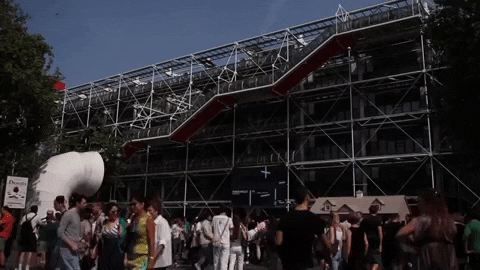 The Centre Pompidou
The Centre Pompidou is a wonderful example of a new "cathedral" and the first Post-Modernist building in the "hi-tech" style. Designed by architects Richard Rogers and Renzo Piano and built from 1971 to 1977, these two postmodern collaborators challenged the norm of contemporary architecture and style. In true post-modern ideology, (ie. there is no such thing as fixed meanings therefore, there are no fixed truths), Rogers and Piano were not concerned with the type of style the Pompidou would embody but rather what it would mean and represent; what is the message and what is its purpose?
These two architects, essentially artists in their own right, wanted to create a work of art that was equally abstract, distant and pluralist as the art pieces it would house within itself. A building has its function, as expressed by its form and style but not in the case of the Pompidou. The exterior is highly industrialized and abstract; it is an architecture of space and volume but not mass, the opposite of Notre Dame de Paris.
The building's utility system (plumbing, electricity, air system, etc…) and the elevators and escalators are exposed, instead of being traditionally within the building and hidden behind walls and fixtures, have been placed on the outside to maximize and open up the interior space to allow for an uninhibited, distant and pluralistic interpretation of the large unified space as well as allowing any necessary and various display arrangements of artworks and exhibitions. By displaying the various systems on the exterior scaffolding throughout the perimeter of the glass-box building, the building becomes embellished with practical material rather than opulent material, like a traditional cathedral would be, thus challenging the viewer and the rules of architectural aesthetics. The new "cathedral" lacks a skin, resulting in a seven-level exoskeleton visible to everyone walking by.
With the advent of industrialization and capitalism of modern life after World War II (1939-1945), and to allow the world who had lived through the war to transition back to "normal" and acceptable daily lives, the technology and resulting culture of the twentieth century forced artists and art to change quickly, to keep pace with the changing society. Materials created as a result of technology, mass-production, and inventions were utilized by artists, who realized they could use anything to make art, just as Impressionists had painted en plein air thanks to the creation of pre-made, pre-packaged paints.
The New Cathedral
Though the new "cathedral" looks like an industrial building, far from the likes of traditional cathedrals like Saint Peter's Basilica or Notre Dame de Paris, neither does the exterior of the Pompidou Center give the impressions of being a great modern museum of art. This begs the question, must form follow function? Not necessarily always (sorry, Frank Lloyd Wright), as in this case. Yes, form follows function in the sense that stripped of its embellishment, the Pompidou is a large building space where the metaphysical space inside protects houses and nurtures many forms of art; Yet no, it does not because the same could be said of any traditional "cathedral" in that it is merely a house for the works of art created by past artists.
While I appreciate both Roger's and Piano's architectural design and feat in building Europe's very first modern art museum along with their attempt to challenge art with an abstract building, it is unfortunately visually unappealing. I was also disappointed to learn that the interior space had lost its original function and had become compartmentalized.
The postmodern pluralism of a museum being a new "cathedral" is a concept I appreciate. A building designed to house works of art which aid in the "worship" of art as a transcendental portal is just as acceptable as a building designed to symbolize a god, divinity, or religion. I have to admit that within the new "cathedral" of the Pompidou is an upside down urinal by Marcel Duchamp (aptly titled 'Fountain', no less) placed on a pedestal to be viewed along with many other provocative works, to be applauded and glorified is amusing and ironic.
Now would you go to "worship" an upside down urinal in a cathedral? Imagine that!